NEWS
Thank you for the Exhibition "CREATIVE × SUSTAINABLE"!
2021.04.23 Fri Exhibition
Thank you for visiting our exhibition "CREATIVE x SUSTINABLE"on April 13, 14 and 15th at Design Festa Gallery Harajuku.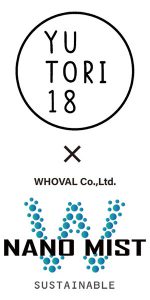 This was our first exhibition with WHOVAL Co.,Ltd. and it became a very good exhibition thanks to everyone's cooperation.
In addition, as the end of the COVID19 is still uncertain, we would like to thank all the visitors for their cooperation in infection prevention.
There were many guests, suppliers and other related parties who could not visit our exhibition.
You can see the images of the samples for the exhibition on our Instagram.(@yutori_18).
We will make proposals that match the times with keeping the skills we have been cultivated up to now.
There are many things we cannot tell you on our Instagram and website , so please feel free to contact us through our sales office or e-mails form [CONTACT] on our website.
On our Instagram, we plan to upload various types of samples, for examples processing, second-hand clothes and remake items.
Again, thank you for WHOVAL Co.,Ltd, Design Festa Galley Harajuku and related parties under such difficult circumstances!